Hello!

This week's newsletter includes a link for reservations to a dinner for $850 per person. We kid you not.
By the way, I'm Bruce Cole, Publisher of Edible San Francisco. You're getting this email because you subscribed (theoretically). If you'd like to hop off at anytime, simply unsubscribe. I appreciate you reading this newsletter.
First up, this damn good salad.
---
EAT
Shell Bean Salad with Purslane and Cherry Tomatoes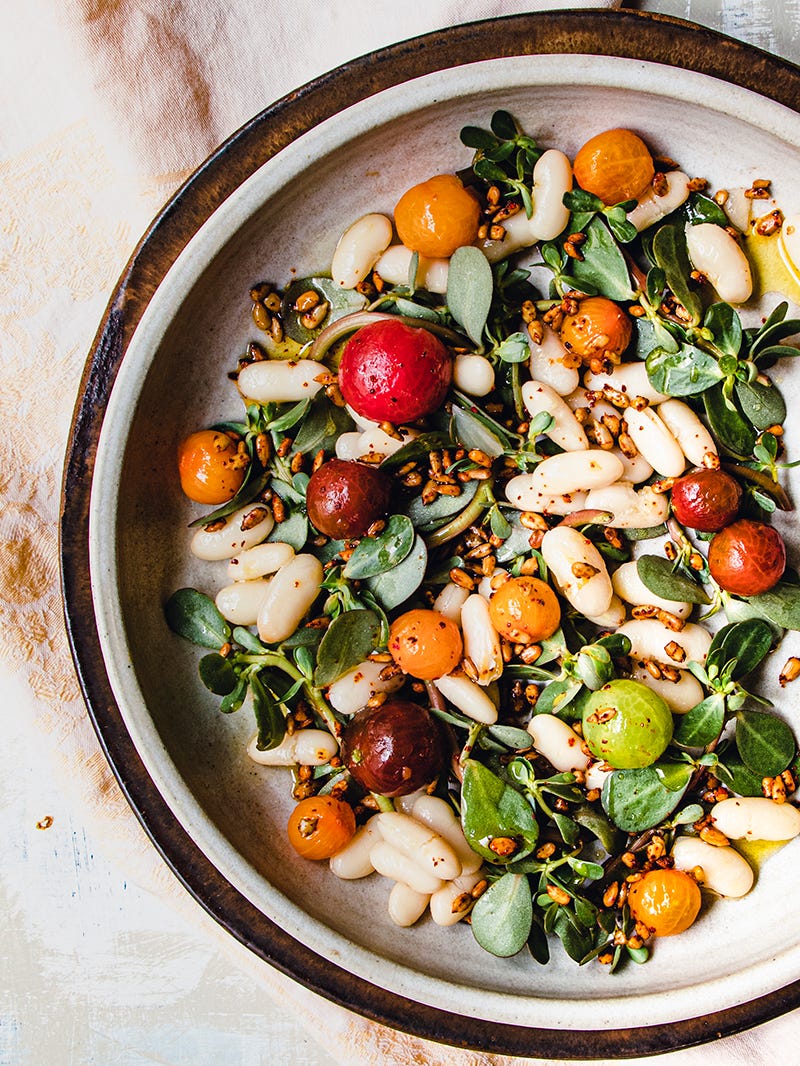 This is a sturdy salad that gets better as it sits so you can prepare it at least an hour before serving, which makes it a good dish to grace your Labor Day spread. You'll find fresh shell beans at farmers markets through October, and while you're there, look for purslane which is a nutritional powerhouse, rich in vitamin A, antioxidants and Omega 3 fatty acids. In other words, this salad is good for you. 💪Photo: Bruce Cole
•
The Origins of Butter Chicken
Katherine Spiers of Smartmouth traces the creation of everyone's favorite Indian take-out dish, aka Chicken Tikka Masala.
It is something of a tragic irony that much of what the world perceives to be "Indian" food was born specifically in Delhi, and only after the country was cleaved into India and Pakistan. … The tandoor oven has existed for centuries in India, but it was Gujral who harnessed it most effectively in the 1900s. He set his up in a dilapidated crumble of a building in the Daryaganj neighborhood, and started doling out tandoori chicken and naan from a small restaurant he called Moti Mahal.
•
All Yours for Only $850
🤔
The table is yours for the evening. Given the new California seating capacity guidelines; we will now be offering an indoor dining experience like no other. Our three historic dining rooms will accommodate one table with parties of two to eight people in a fully immersive and privatized experience.
.
Start with a bottle of 2006
@Domperignonofficial
and delight in an extended Chef's Tasting Menu featuring truffles,
@regiisova
caviar, foie gras, Wagyu beef with extended canapés and dessert service.
.
To reserve your experience, please go to link in Bio.
An extended Chef's Tasting menu to celebrate the return of indoor dining. Located in the Historic French Laundry Building. Seating is limited, we only have 3 tables. Prepaid reservation for parties of 2 to 8. $850 per person.
For that price you'd think they'd throw in a free set of Ginsu Knives. If you have that many Benjamins burning a hole in your pocket here's the link.
•
Trending
Google says these are the top 5 recipes on Edible SF right now.
To save you the drive to the French Laundry, we will prepare all 5 of the above recipes (and we'll throw in the shell bean salad ☝️ as well) for you in the privacy of your own home for only $850. Sadly, this offer does not include a free set of Ginsu Knives either.
---
DRINK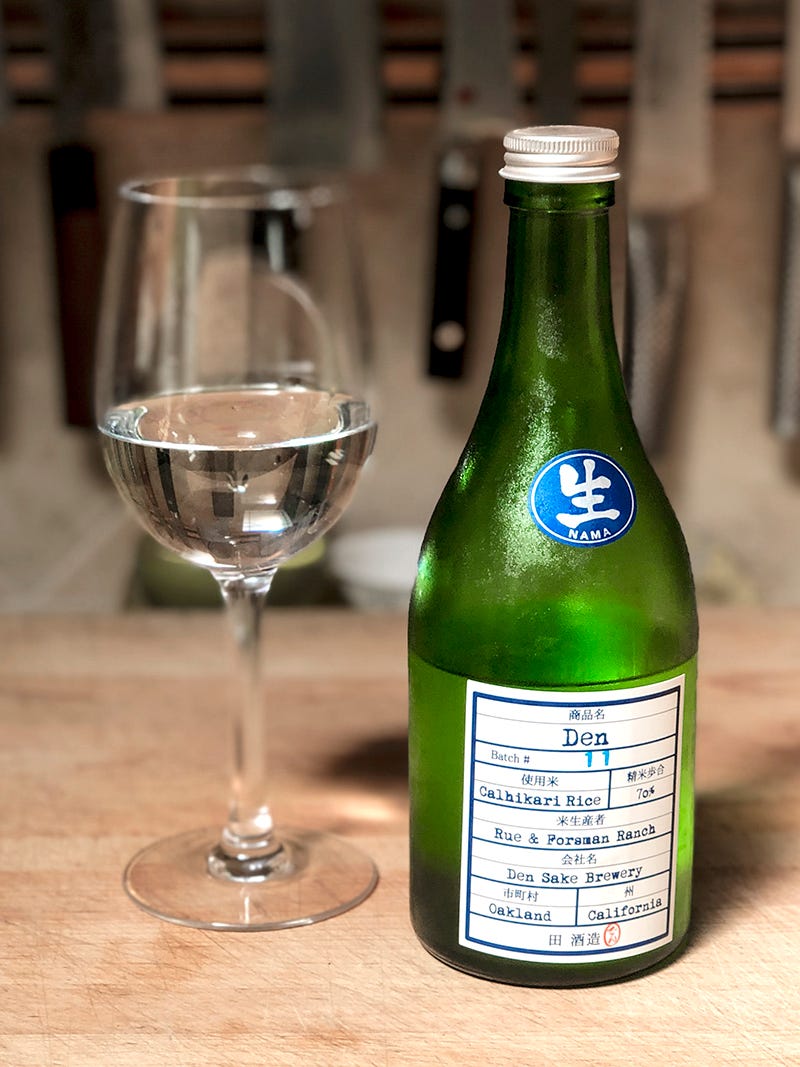 Den Sake, Batch #11, Oakland. The latest release from Den Sake Brewery in Oakland features its trademark style of crisp acidity, balanced with a velvety smooth texture and definite notes of cantaloupe and green apple. We're also struck by the fact that it seems very quaffable (that acidity!), which means it'll pair nicely with the upcoming heat wave, if you know what we mean. We've been drinking Den Sake since batch #5 and with a new release approximately every four to six months. It's fun to track the evolution of style as each batch evolves towards what seems a wine-like destination. In fact, if you're a wine drinker that has yet to dip into sake, Batch #11 is the perfect gateway. We purchased this bottle at Gemini Bottle Co. It's also available at Bi-Rite Markets and Fig and Thistle Market in the city.
Watch: Tastemakers Den Sake Brewery
Yoshihiro Sako uses time-honored Japanese techniques to brew small-batch sake using single-origin rice grown on Rue & Forsman ranch in the Sacramento Valley. With a focus on crafting sake that is meant to pair with northern California's renowned cuisine, Yoshi works with the region's sommeliers and shop owners to bring the beautifully ephemeral flavor of sake to the American table. Watch the Tastemakers episode with host Cat Neville as she visits with Yoshi at the brewery in Oakland.
---
THINK
The Man Who Ate Too Much: The Life of James Beard
We read Epicurean Delight: The Life and Times of James Beard by Evan Jones when it was first published by Knopf in 1990. Didn't realize it then, but the book was apparently the first to acknowledge that Beard was gay, a secret that was closely guarded by his friends, even after his death in 1985. In The Man Who Ate Too Much: The Life of James Beard (W. W. Norton & Company, Oct. 2020) author John Birdsall examines how Beard's sexuality created a queer aesthetic in food that influenced many home cooks back in the day.
In the first biography of Beard in twenty-five years, acclaimed writer John Birdsall argues that Beard's struggles as a closeted gay man directly influenced his creation of an American cuisine. Starting in the 1920s, Beard escaped loneliness and banishment by traveling abroad to places where people ate for pleasure, not utility, and found acceptance at home by crafting an American ethos of food likewise built on passion and delight. Informed by never-before-tapped correspondence and lush with details of a golden age of home cooking, The Man Who Ate Too Much is a commanding portrait of a towering figure who still represents the best in food.
Please preorder your copy from Omnivore Books (instead of the evil empire): The Man Who Ate Too Much
Related: America, Your Food Is So Gay.
•
On White Supremacists and Sardines
If you aren't familiar with Julia Reed, author and journalist who passed away last week, her next-to-last column for Garden and Gun is a coup de maitre on life in the Mississippi Delta, from interviewing white-supremacist groups to cooking through a couple cases of sardines.
While we are faced with larger reckonings, the smaller act of cooking suddenly doesn't seem so crazy. We are, most of us, in the midst of a national wake, grieving for an ever-growing number of lives lost and dreams—still—deferred. Where I come from, a wake demands food, a lot of it. –Julia Reed for Garden and Gun
Washington Post obit: Julia Reed, journalist and author who chronicled Southern foodways, dies at 59.
•
When White Cooks Co-Opt Asian Cuisine
A treatise from The God of Cookery.
Sometimes, white supremacy in food is really obvious. Other times it can be really nuanced, hidden and buried under good intensions (sic). Many of you have asked about @pippyeats, the winner of BBC One's "Britain's Best Home Cook." She just released an Asian cookbook called "Dumplings and Noodles."

She seems really nice. She seems to have a genuine interest in Chinese food, and she's "cute as a button."

I'd like to illustrate how someone like @pippyeats—despite good intentions—is a consistent problem in the food world (tap through the IG stories for the full essay).
Related: Food, Race, and Power: Who gets to be an authority on 'ethnic' cuisines?
•
Admit It: You're Never Gonna Sacrifice a Hamburger for Climate Change
Meatless Monday seven days a week anyone?
Despite a growing scientific consensus that animal agriculture must be massively reduced as part of a comprehensive climate strategy, many prominent climate advocates have resisted working meat and food politics into the climate conversation. -Jan Dutkiewicz for The New Republic
Related:
Found a sect of liberals who hate AOC because she wants to take away hamburgers via the GND.
•
Listen 🎧
Salt and Spine host Brian Hogan Stewart talks about one of our favorite cookbooks, Repertoire: All the Recipes You Need, by Jessica Battilana. Listen and subscribe to Salt and Spine.
Happy September! Join us this month as we welcome Jessica Battilana to the Salt + Spine Cookbook Club! We're excited to cook from Jessica's Repertoire with you throughout the month, and then to come together for a Virtual Dinner Party with
@jbattilana
!⠀
⠀
📚 Want to get involved? Start by 🎧 LISTENING to our interview with Jessica and 🍳 COOKING from Repertoire. (We have featured recipes on our site to get you started—and links to buy a copy 📗 from local booksellers like
@omnivorebooks
.) Then 📷 SHARE what you're making and learning using
#TalkCookbooks
and 🎉 PARTY with us at our Virtual Dinner Party with Jessica and
@civickitchensf
on Sept. 30!⠀
⠀
➡️ All the info you need to take part and to reserve your spot for the dinner party is at the link in our bio or saltandspine.com/cookbookclub. We can't wait to
#TalkCookbooks
with you this month!
---
ONE MORE THING
Remember Michael Pollan's mantra? "Eat food. Not too much. Mostly plants."
Rumor is, he stole that idea from Johnny Cash 😉
---
That's all for this week. Since we don't have a piano to practice on, we're gonna listen to this instead:
Do you follow us yet?
Twitter 53K+ followers
Instagram 25K+ followers

Did you miss last week's newsletter? Check it here.

If you like this newsletter, please share it with a friend.

And if you made it here by chance and like the looks of things so far:
We're outta here. Be well and take care,
–Bruce
p.s.
#PROTIP: You might encounter a pay wall for some of the articles linked to in this newsletter. While we don't advocate not paying for content (subscriptions keep journalists/writers employed!), from time to time we do use OUTLINE to read an article for research purposes.