Discover more from EAT. DRINK. THINK. from Edible San Francisco
Sign up for our free bi-weekly newsletter spotlighting seasonal recipes, the latest SF Bay Area food news, and more!
Over 4,000 subscribers
#14 | How Do You Like Them Apples?
Pandemic Diet: Frozen Tatertots
Hello!
We ended last weeks newsletter with a Galway Kinnell poem about eating blackberries in late September (read it here) so we're going to close the loop and kick off this edition with a few lines from his poem The Apple Tree.
It's the fall, the unfallen apples
hold their brightness
a little longer into the blue air
hold the dream
they can be brighter.
By the way, I'm Bruce Cole, Publisher of Edible San Francisco. You're getting this email because you subscribed. If you'd like to hop off at anytime, simply unsubscribe. I appreciate you reading this newsletter.
First up, let's polish off some apples.
---
EAT
Pan-Roasted Apples with Black Pepper Caramel Sauce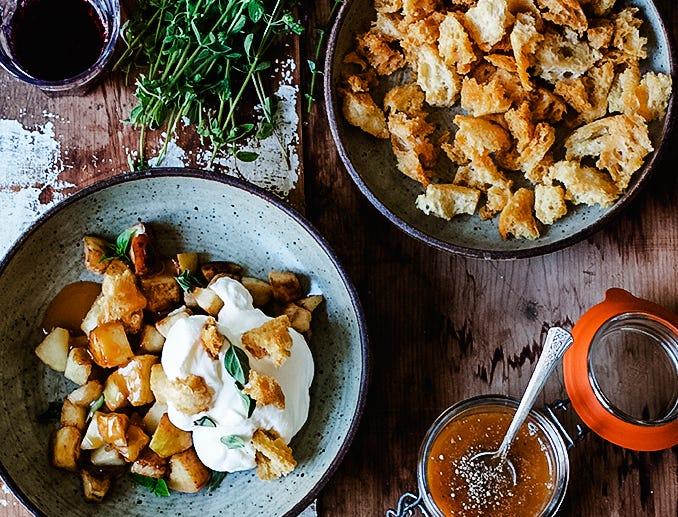 It's official, stone fruit season is toast and we're about a month away from citrus season. So apples it is, and luckily here in the Bay Area you can find at least a dozen different varieties, not counting those ubiquitous Red Delicious and Granny Smiths. Devoto Gardens & Orchards grows heirlooms such as Amere de Berthcourt, Mutsu, Hawaiian (our fav), Black Twig and many more and you can find a seasonal selection at their stand on Tuesdays and Saturdays at the CUESA Ferry Plaza Farmers Market.
So let's get to it. This sweet and savory apple dessert (above) from Nichole Accettola at Kantine is easier than apple pie. It takes 15 minutes to make a simple caramel sauce and while that is simmering on the stove, toast some croutons, brown some apples in butter and whip some cream. Multitask! You can do it! 💪
Nichole says: "I love to serve this dessert when entertaining at home and put the apples, cream, croutons and caramel in separate bowls, allowing guests to dig in themselves." Get the recipe: Pan-Roasted Apples with Black Pepper Caramel Sauce. Photo: Nichole Accettola
•
While We're At It
If you're not making this recipe ☝️but still enjoying some of the heirlooms we mentioned, please remember to eat ALL of your apple. Every single bite. From top to bottom (or vice-a-versa) like this:
Otherwise:
If each of us eats an apple a day, as we all do, and we are all wasting 30 percent of our apples at $1.30 per pound, that's about $42 wasted per person per year—which is $13.2 billion annually, thrown in the trash or fed to pigs. –James Hamblin Apple Cores Are a Myth: You can eat the whole apple for The Atlantic
---
Sponsored
Aplat Culinary Design Collection for sharing food and wine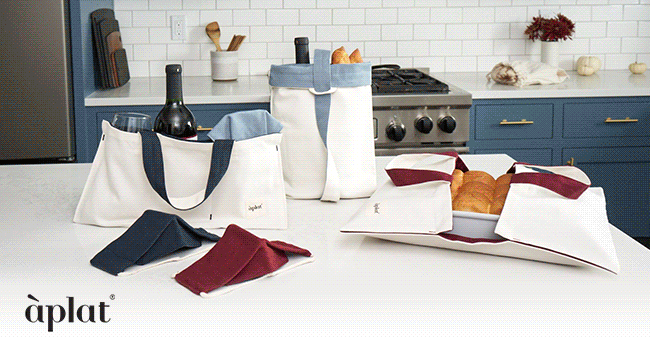 Using the art of origami principles for zero waste design and manufacturing Aplat creates simple, functional, 100% organic cotton products for chefs, connoisseurs, and farm-to-table enthusiasts. Responsibly made in San Francisco, Aplat products are plastic-free, elastic-free, machine washable and reusable, and 100% biodegradable.
Aplat, is an advocate for sustainable local manufacturing, supports local organic farms, food producers, and donates 1% of profits to environmental and non-profit organizations.
---
DRINK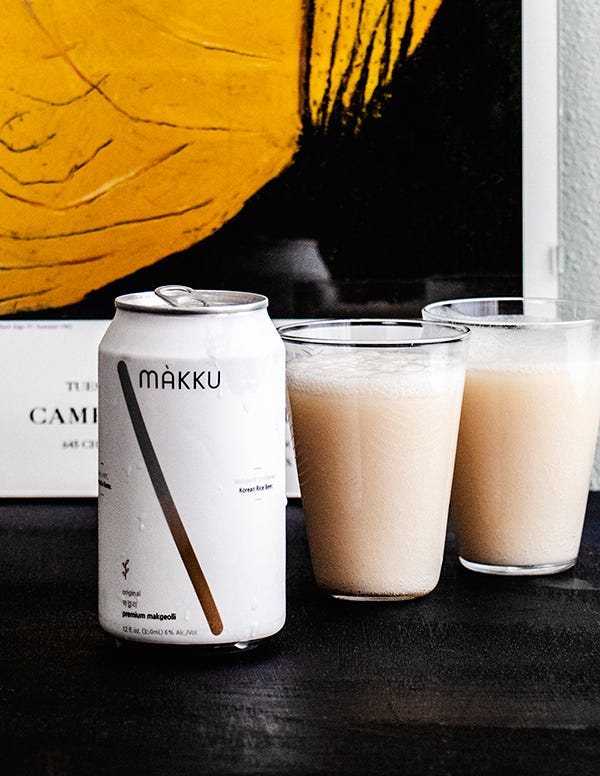 Shake it, shake it, shake it, suga! Makgeolli (pronounced MAHK-oh-lee) is probably the only type of beer you need to shake (like a polaroid picture!) before opening. It's an unfiltered Korean beer made primarily from fermented rice that needs a good shake before opening because the sediments will have separated. Makgeolli has a creamy finish with just enough acidity and a hint of sweetness that makes it very food friendly (this is not your typical American IPA sledgehammer). And since it's only lightly carbonated, it's not going to explode/spray after that shake session. Really digging Makku (above) which also comes in mango and blueberry flavored. It's brewed near Seoul with 100% Korean ingredients. We purchased this beer from Queens.
---
THINK
The Nasty Bits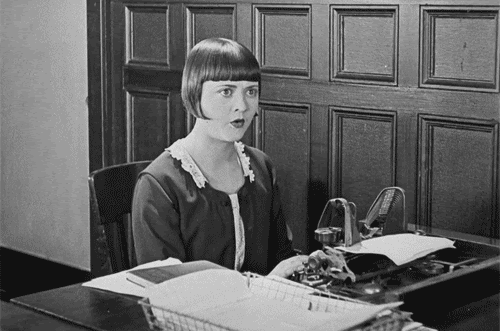 Why do we have to call food "nasty", or comment under people's pictures or posts and say, "OH MY GOD THAT'S SO GROSS", "I WOULD NEVER EAT THAT" or things similar to it? … The sad part is, yall really say this shit with yalls whole hearts and chest. –Amethyst Ganaway for Squirrel Tomatoes
•
Define Gentrification
I'm bored w/ the frame that gentrification starts with food spaces. Gentrification isn't about a filament-bulb-lit café opening next to a taqueria, nor is it about a chef who opens up a fine dining restaurant. Gentrification is about profit, power, racism & violence at scale! –Devita Davidson on Twitter
•
ICYMI: Plastic Recycling Apparently is a Sham Perpetuated by Big Oil
Remember last weeks item about plastic covered cucumbers? Just a spec of microplastic dust compared to this. We are super-conscientious about putting plastics into that blue recycling bin that we haul out to the curb once a week and now it appears that all our efforts have been just a no-good-feel-good exercise. WTF?
Laura Leebrick, a manager at Rogue Disposal & Recycling in southern Oregon, is standing on the end of its landfill watching an avalanche of plastic trash pour out of a semitrailer: containers, bags, packaging, strawberry containers, yogurt cups. None of this plastic will be turned into new plastic things. All of it is buried.

NPR and PBS Frontline spent months digging into internal industry documents and interviewing top former officials. We found that the industry sold the public on an idea it knew wouldn't work — that the majority of plastic could be, and would be, recycled — all while making billions of dollars selling the world new plastic. How Big Oil Misled The Public Into Believing Plastic Would Be Recycled. –Laura Sullivan for Morning Edition
•
I'm Sorry Miss Jackson, I Am Four Eels...
•
What's the New "NSFW" Since No One Is Actually At Work Anymore?
Whatever it is, tack that acronym onto this link: Famed X-Rated Cake Shop In SoMa Has Closed After 38 Years.
•
We Have Been Eating Frozen Tater Tots Since the Pandemic
Of course we're cooking them first, but forgot just how good they are. And we've also been listening to the mellow 70's rock, which is something we've scoffed at for at least the past 30 or so years. It's definitely the pandemic triggering a nostalgia for the way things were before all hell broke loose. Haven't quite made it to the hot dog octopus threshold though.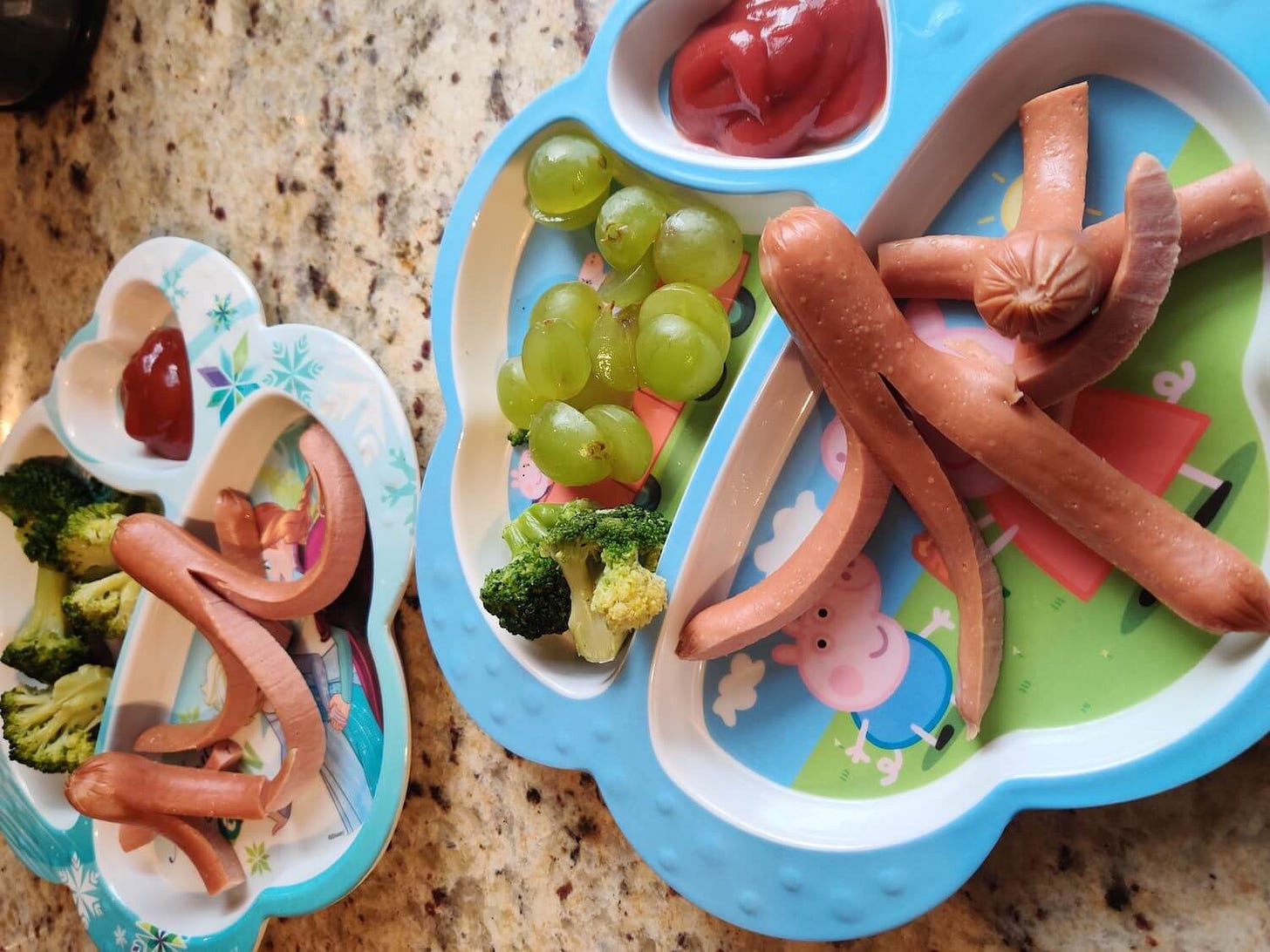 Covid-19 made me look back at the food I grew up eating as a child and hadn't touched in years: hot dogs cut like octopuses, boxed mac and cheese with ketchup smiley faces, stacks of salty potato chips in between slices of soft white bread. In the "time before," I was an ambitious home cook. Now I want instant noodles and potato chip sandwiches. –Anam Ahmed for The Counter | Photo: Anam Ahmed
•
Hotcakes
Danger is as danger and I once did—
working in a Taco Bell's warm-breath cloud
of spiced beef and tube cheese—
boob-flash a stunned mother
waiting at the drive-thru window,
mouth wide as a hungry suckling's.
Continue reading the poem Hotcakes by Rochelle Hurt in the Taco Bell Quarterly, which is definitely not affiliated with the fast food giant. h/t the Currant newsletter (we highly recommend subscribing).
---
ONE MORE THING
Thoughts on the devastating wine country fires and what "community" really stands for from Paolo Lucchesi, Editorial Director, @Resy, (and former Food and Wine editor at the San Francisco Chronicle).
Buildings can be rebuilt. Chefs can open new restaurants. But the very real outpouring of anguish — from locals, from colleagues, from current and former staff (see IG Stories above) — for the fire destruction at
@therestaurantmw
is a testament to how much
@ckostow
and 
@martinalainu
, like so many others in Wine Country, have been invested in their communities. It's a true small town, one bound — and defined by — a common hospitality industry. That's why these relentless fires, year after year, are so painful. 
The people who work in Wine Country chose to build their lives there, raise families there. And at this moment, nearly 70K people have been evacuated during the Glass Fire. And that's just *this* time around, in what is becoming an increasingly deflating annual rerun. 
And whether fine dining is your thing or not, the Meadowood team, in that beautiful room, felt like leaders in that community, people at the pinnacle of their chosen profession. It was a collaborative restaurant, a place that seemed to be doing that genre as well as it could be done, supporting AND highlighting staff, while giving a showcase to the web of Napa farmers, winemakers, and artisans. 
There's a cruel twist that a restaurant that built itself around celebrating Napa Valley was felled by that same place. But as the excerpt from
@ckostow
's book implies (second photo), I do hope that everything built there was not defined by physical walls. Not just at Meadowood, but the entire Wine Country community.
---
That's all for this week.
Special thanks to Aplat for sponsoring this newsletter. If you're interested in sponsoring Eat. Drink. Think., see here for more details.
And yes we did indeed drop a couple Outkast refs in this weeks edition. For your listening pleasure:
Thanks for subscribing to Eat. Drink. Think. This post is public, so feel free to share it. Actually, we'd be eternally thankful if you shared it, with everyone you know 😉
Do you follow us yet?
Instagram: 25K+ followers
Twitter: 53K+ followers
Facebook: 6500K+ followers

Did you miss last week's newsletter? Check it here. 
And if you made it here by chance and like the looks of things so far:
We're outta here. Be well and take care,
–Bruce
---
p.s.
#PROTIP: You might encounter a pay wall for some of the articles linked to in this newsletter. While we don't advocate not paying for content (subscriptions keep journalists/writers employed!), from time to time we do use OUTLINE to read an article for research purposes.
---
"Everything will be okay in the end. If it's not okay, it's not the end" –John Lennon