#15 | We ❤️Jacques Pepin
+ What is FatPhobia?
Hello! Welcome.
I'm Bruce Cole, Publisher of Edible San Francisco. You're getting this email because you subscribed. If you'd like to hop off at anytime, simply unsubscribe. I appreciate you reading this newsletter (would really love it if you tapped that ❤️ in our byline too ☝️).
Figured it's about time to divulge the back story of this EAT. DRINK. THINK. newsletter. It's modeled after our old food blog, sautewednesday.com (first published in 2001). Sauté Wednesday was a food news site where we aggregated a wide range of online content, from Anthony Bourdain eating a live cobra heart, to the Pea Soup World Championships. And as we mentioned last week, since the pandemic has prompted us to indulge in frequent nostalgia sessions, here's a peek back at Sauté Wednesday c. 2005 👇via the Way Back Machine.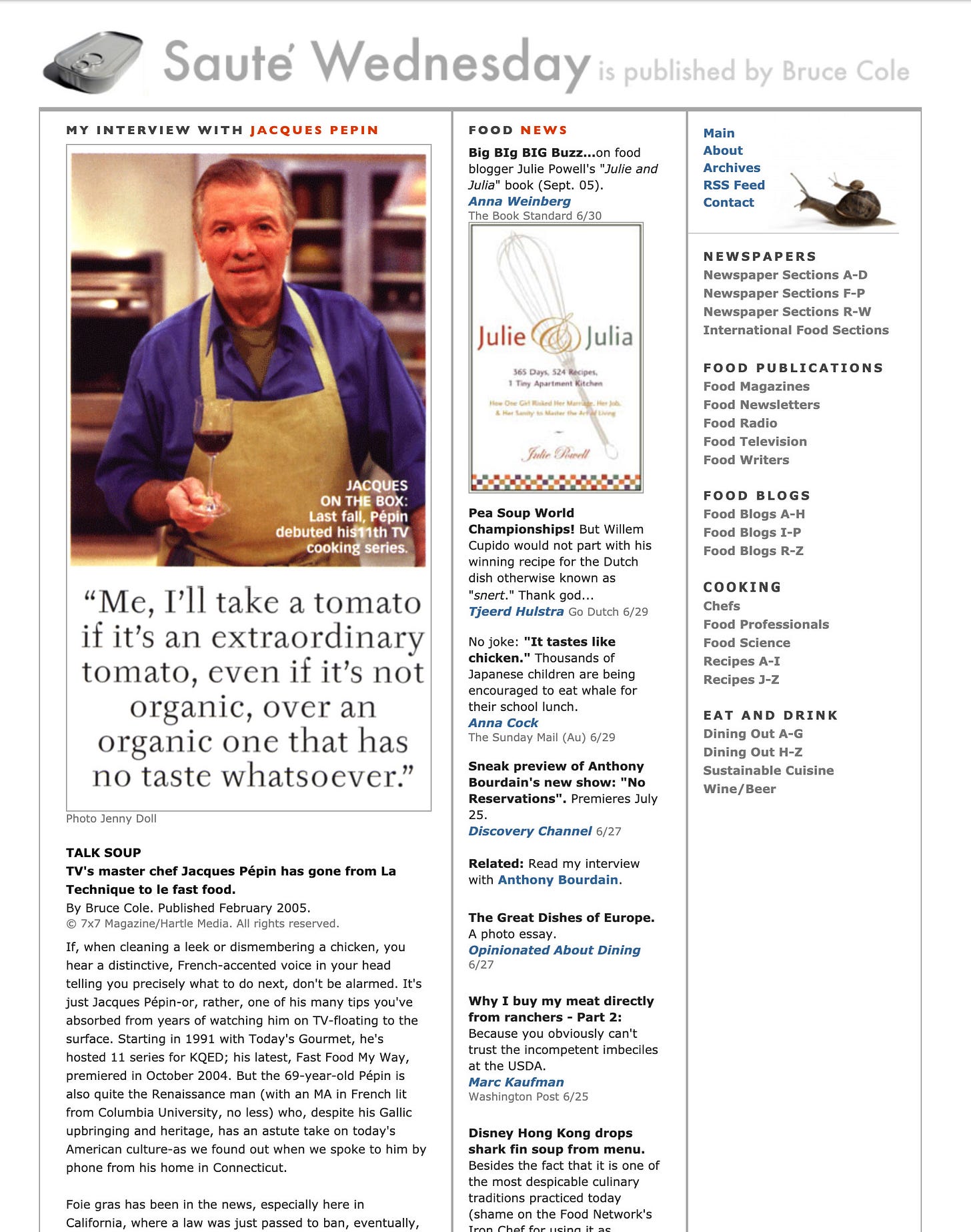 Figured we'd throw up that interview with Jacques Pepin since we're sharing one of the recipes from his new book, Quick and Simple, below. Admittedly, we were a little taken back then by his comments about organic tomatoes because when you live by the organic credo you presume all of your heroes do too.
I use organic food when I can, but I'm not going to stop eating when there isn't any. I would have an argument with Alice [Waters] because if an ingredient is not organic, she doesn't want it. Me, I'll take a tomato if it's an extraordinary tomato, even if it's not organic, over an organic tomato that has no taste whatever. People think that because [something's] organic, it's extraordinary. I've had lousy organic food.
Here's another one of our memorable Sauté Wednesday archives: 2004 Favorite Things with Chuck Williams, Amanda Hesser and more.
Ok, back to the dumpster fire that is the real world.
It's also pear season, so let's get to it.
---
EAT
Bartlett Pears in Puff Pastry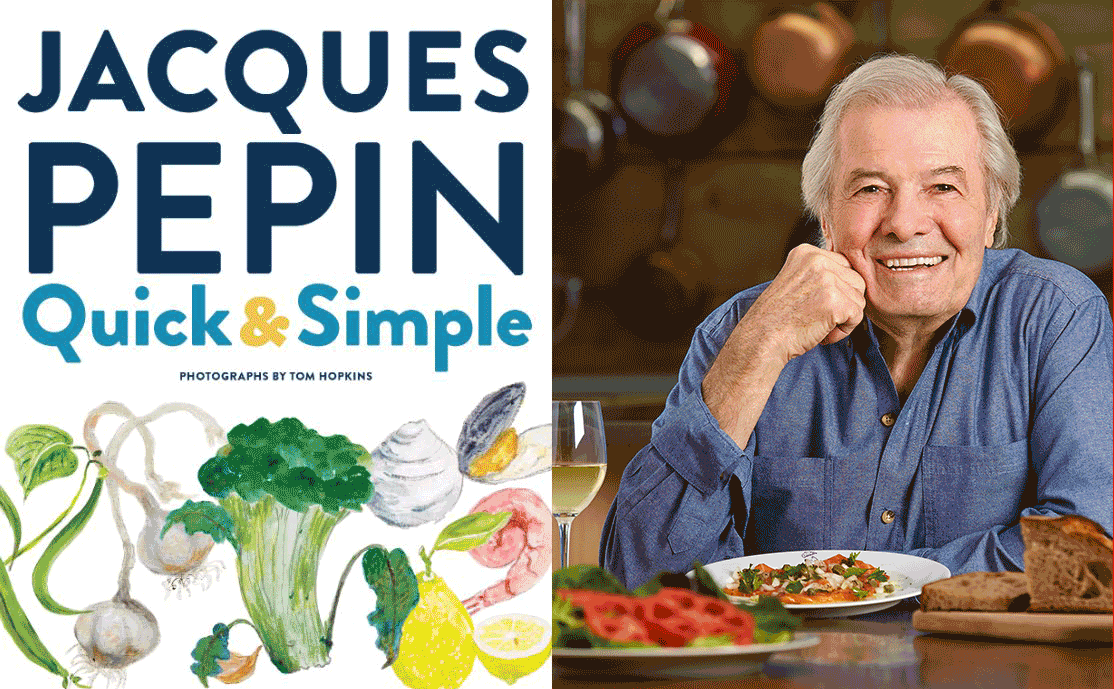 We learned a lot of the cooking techniques we still use today by watching Jacques Pépin's inaugural series, Today's Gourmet on KQED (1991-1993), plus we still like to pronounce olive oil like Jacques does: ooh-leeve-oil. And we alway's peel our red peppers "so they don't come back to you."
Jacques new cookbook Quick and Simple is out this week and we're honored to share this recipe for Bartlett Pears in Puff Pastry with you.
For this easy dessert, I cover pear halves with frozen puff pastry and serve them right in the gratin dish in which they are baked. You can use apples instead of pears, if you prefer. Get the recipe: Bartlett Pears in Puff Pastry. Photos: Tom Hopkins | Illustrations: Jacques Pepin
---
Sponsored
CUESA's Sunday Supper: A Farm to Home Feast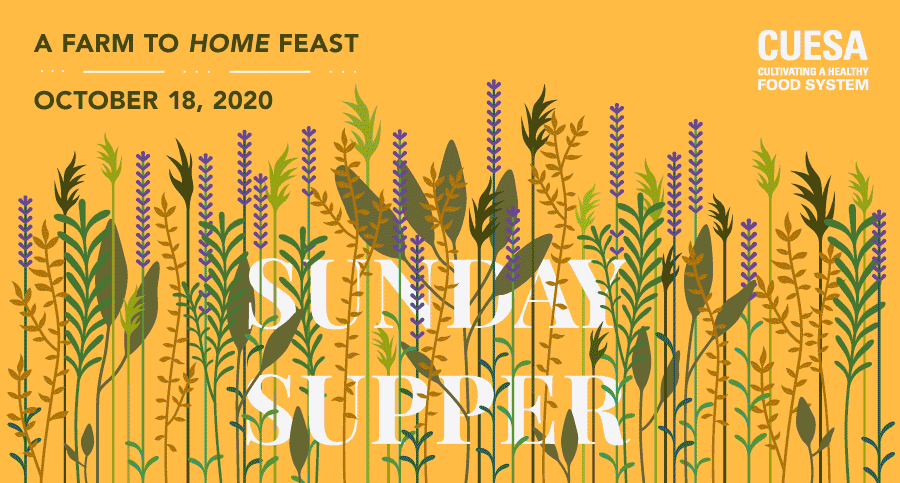 Join us in supporting our essential farm and food community at CUESA's Sunday Supper: A Farm to Home Feast on October 18. Treat yourself to a four-course feast from the city's top chefs and virtual gala in the comfort of your home. Proceeds support CUESA's work to grow thriving communities through the power and joy of local food. Reserve your feast today! Visit CUESA.org for more details.
---
DRINK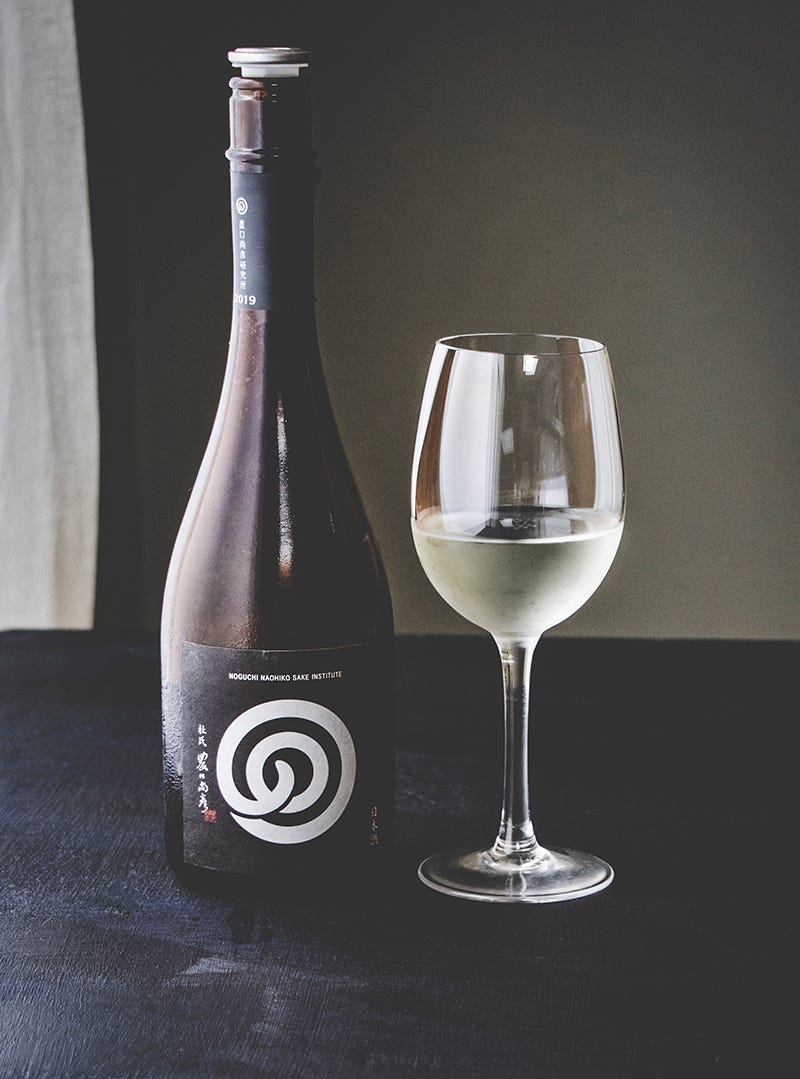 Noguchi Naohiko Honjozo Muroka Nama Genshu. Getting a chance to drink an unpasteurized sake (*nama) from Japan is exciting and this Honjozo does not disappoint. It's very lively in the glass, always evolving, and similar to a lot of natural white wines we've opened in the recent past, thinking specifically of the Florez "Moonmilk" Chardonnay 2018 Santa Cruz Mountains and La Garagista Loup d'Or 2018 Brianna, for starters. We're going to lean on Beau Timken of True Sake for the tasting notes:
If you drink sake long enough, eventually you find those brews that blow your socks off. Count this sake as one of your Bucket-List-brews that takes "flavorful" sake to the next frontier. Oh my gosh! Talk about controlled madness. Talk about controlled brashness. The entire world of flavors is in this brew, which could be crazy, but the balance of this Nama Honjozo is superb and this makes the whole thing dance perfectly. … In a nutshell this sake is a flavor shifter along the lines of a shape shifter. It changes with every sip, but never let's you get lost. 
That sounds about right, it's a very nice ride! We purchased this sake from True Sake. Photo: Bruce Cole
*The majority of Japanese sakes consumed in the U.S. are pasteurized in one way or another, which helps to stabilize the sake for preservation and shipping.
---
THINK
Define FatPhobia
"If anyone ever made note of how much I was eating, I have always been feminist enough to make a mental note that they should go fuck themselves. Why are weight and appetite feminist issues? They shouldn't be, of course, but they are feminized, and women bear the brunt of fatphobia and also struggle disproportionately with disordered eating. –Alicia Kennedy in On Health Fatphobia & Disordered Eating, From the Desk of Alicia Kennedy
But our current thinking about weight—and the belief that we need to control it by eating "clean," home-cooked, restrictive meals—originates from a less glamorous but far more influential group of people: The mostly white, mostly male, mostly thin food writers and chefs who have been setting the agenda of what they call the "good food movement" for the past couple of decades. And in the process, they've turned being thin—and eating in the labor-intensive way they think guarantees thinness—into a moral imperative. –Virginia Sole-Smith in The Thin White Men Who Rebranded Dieting as "Wellness," for Bitch Media
(We linked to this story a couple weeks ago but it worth revisiting for this thread, men have eating issues too)
The carcass stared back. When I saw that pile of bones, it felt like a bucket of ice water dumped on my head — bucket included. That was when the switch flipped. … For the better part of 15 years — throughout jobs at the Chicago Tribune and Onion Inc. — I ate and ate, stayed fat, and shrugged it off as a job hazard. –Kevin Pang in Fat Chance: A food writer leaves his profession to confront his relationship with food for Heated
Caregivers awakened to the gospel of Julia Child and Alice Waters, we made frequent Sunday morning farmer's market trips. Creamy brie and Chardonnay was snacked on while cooking. … In this same environment of abundance, there was a flip side of restriction. I grew up in a household of people obsessed with calories, fat, carbs, and staying slim. My diet starts tomorrow. I just need to lose 20 pounds. Half Jacques Pepin, half Jenny Craig. –Mimi Newman in My recipes, my self: the cycle of indulgence and restriction for The Juice of One Lemon
•
Jam Session
Joyce Goldstein, who wrote the book on preserving, chimes in on the never ending saga of Sqirl's moldy buckets.
I did an inventory a couple months ago and I have, oh my god, I must have over 400 to 500 jars (of jams/preserves) right now. … And I would never ever, serve anything that had mold on top, even if you spooned the mold off. It should be dumped. –Joyce Goldstein on the Spectacular Failure Podcast.
•
Indigenous Peoples' Day
Mark your calendar for this Monday: In observance of Indigenous Peoples' Day, A Growing Culture will host a daylong broadcast celebrating Indigenous voices and the fight for food sovereignty. This all day digital rally will be collaboratively organized with poets, musicians, land activists, chefs and farmers.
WATCH: GATHER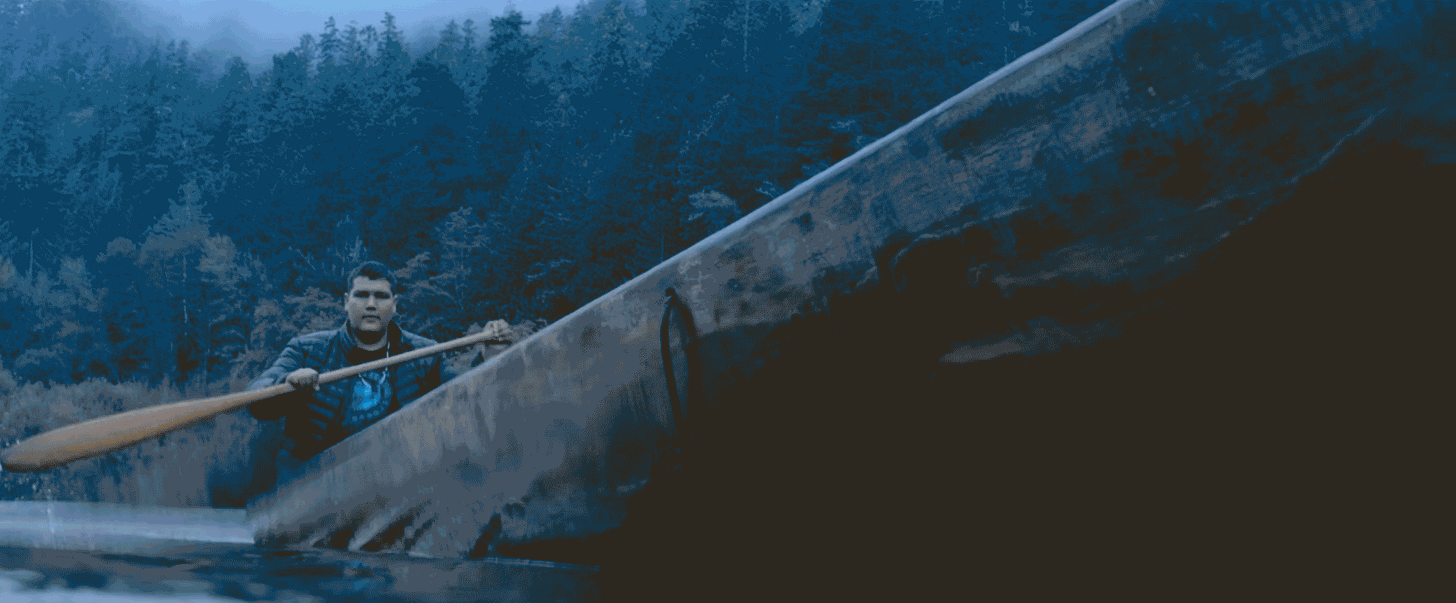 Gather is an intimate portrait of the growing movement amongst Native Americans to reclaim their spiritual, political and cultural identities through food sovereignty, while battling the trauma of centuries of genocide. Directed by James Beard Award winning filmmaker Sanjay Rawal.
Share Gather: Gather is available for virtual community screenings with an option to screen via an online platform to classes, colleagues, constituents and other types of audiences and conduct post-screening Zoom chats.
---
ONE MORE THING
---
That's all for this week.
Thanks for subscribing to Eat. Drink. Think. This post is public, so feel free to share it. Actually, we'd be eternally thankful if you shared it, with everyone you know 😉
Do you follow us yet?
Instagram: 25K+ followers
Twitter: 53K+ followers
Facebook: 6500K+ followers

Did you miss last week's newsletter? Check it here. 
And if you made it here by chance and like the looks of things so far:
We're outta here. Be well and take care,
–Bruce
---
"Everything will be okay in the end. If it's not okay, it's not the end" –John Lennon