#18 | Zombie Salmon Are For Real
Penne Alla Vodka with Cleopatra
Trick or Treat!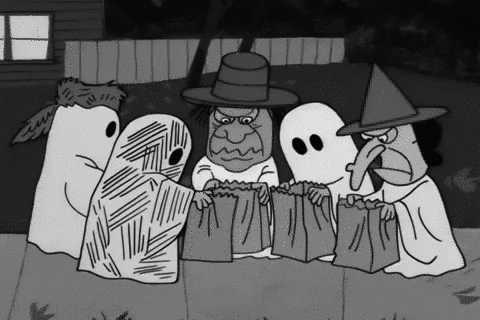 Going to miss all those cute costumes at the doorstep tonight, although to be honest, we always gave a little extra to the middle schoolers with last-minute costumes (and often none at all), holding out a mere pillowcase for collection. We've been there, dashing door to door trying to get as much loot as possible before everyone turned out the lights. If we rationed carefully, our stash might last until Thanksgiving, although at the end we were down to Smarties and Bit-O-Honeys, which we reluctantly ate out of a sense of duty.
Btw, I'm Bruce Cole, Publisher of Edible San Francisco. You're getting this email because you subscribed. If you'd like to hop off at anytime, simply unsubscribe. I appreciate you reading this newsletter.
---
EAT
"Honestly, I could probably put this on a tire and it would be delicious."
Rick Martinez, of Bon Appétit Test Kitchen fame, makes Mole Sencillo for Food52. Oh, and we want Rick's apron! Having been a frequent follower of Bon Appétit's YouTube channel, it's nice to see the stars have found other platforms for their talents since the whole house burned down. Sohla El-Waylly also has a new show and column with Food52, Off-Script with Sohla and her first video, Chicken & Rice: However the Heck You Want, has 585K+ views, which at a quick glance, looks like 500K more views than most of the videos on the Food52 channel. Funny how that works.
•
Trending
What are Edible SF readers cooking? Google says these are the top 5 recipes for the month of October on ediblesanfrancisco.com:
---
Sponsored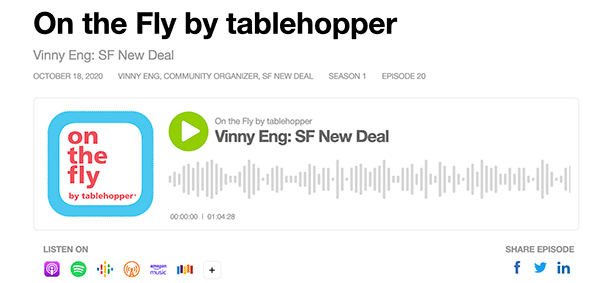 On the Fly by Tablehopper, features a monthly interview addressing the monumental changes the food and beverage industry is experiencing in this age of the coronavirus pandemic. Your host is Marcia Gagliardi of tablehopper.com, an insider newsletter about the SF Bay Area restaurant industry. She is speaking with San Francisco Bay Area chefs, restaurateurs, and other members of the hospitality industry—from the big names to the tiny neighborhood joints—as they struggle to adapt and survive. Listen to their stories: how are they pivoting, what's working, and how we can help, along with inspiring stories of how the industry is trying to change and rallying to feed many communities in need.
---
DRINK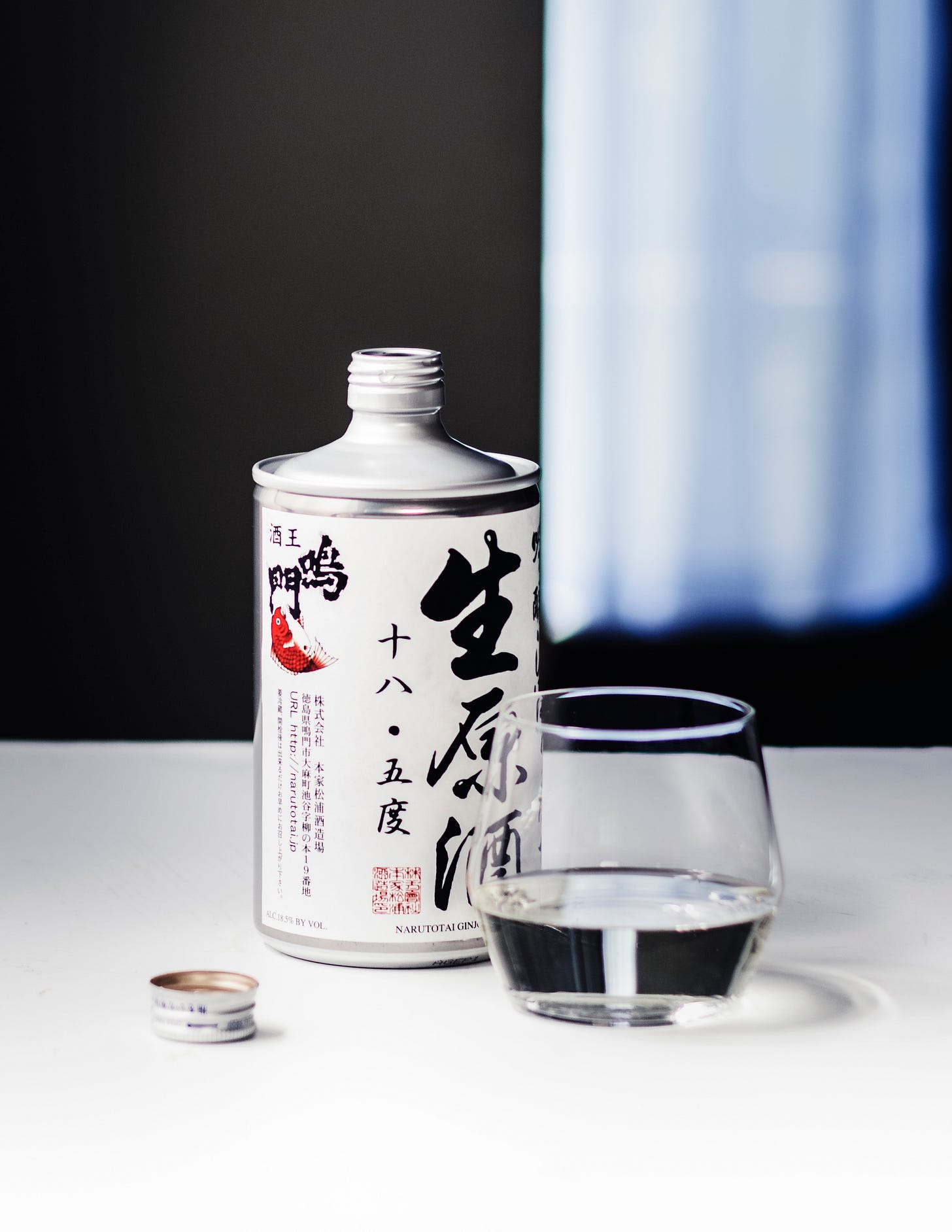 Narutotai Ginjo Nama Genshu "Red Snapper"
Although we once studied Japanese and can still count to ten (ichi, ni, san, shi, go…), we can't read sake labels. This is a real hurdle when shopping for rice wine, but luckily this one has a vibrant red fish on the side and that's all you need to know to grab it off the shelf. Please note that it should be a refrigerated shelf, because this a "nama" sake, meaning it's unpasteurized and should be chilled at all times. Angel Davis of Fig and Thistle Market first turned us on to the Red Snapper and we were blown away at first sip. It's also available from True Sake, but we purchased this can at Nijiya Market in Japantown while on a yuzu kosho resupply trip.
We call this a very food-friendly sake although it does clock in at 18.5% ABV, which is kind of the opposite reasoning we apply to wines: we usually tag 12-13% ABV bottles as the best dinner companions, not the fruit bombs weighing in at 15% ABV.
The Red Snapper's semi-dry crispness and a punch of fruitiness was the perfect foil to a Baja Kanpachi filet that we ordered from Water 2 Table, and served sashimi-style with a dab of that yuzu kosho.
In keeping with last week's Drink column, we're offering up this snappy tune in lieu of extended tasting notes. Photo: Bruce Cole. Cheers!
---
THINK
Define Disgusting
One master sommelier, according to these accounts, propositioned at least 15 candidates, sometimes promising professional favors in return for sex. … One student said a master sommelier in Texas asked her for a pair of her underwear "to snuggle with." Several said the slur "sommsucker" is used for women who have relationships with members of the court. And one woman said she was raped by a prominent master sommelier in New York City after meeting him at a wine event. — Julia Moskin in The Wine World's Most Elite Circle Has a Sexual Harassment Problem for The New York Times
•
Define Pantry Loading
More than half of Americans said that they're stockpiling groceries or plan to stockpile over worries about supply chain disruptions due to COVID-19 surges and political unrest amid the presidential election.

According to an October report from market research firm White Plains, New York-based Sports and Leisure Research Group, roughly 52% of Americans plan to stockpile this fall. Of those who are stockpiling, the majority are concerned about an increase in infection rates, but a smaller share of people said that they're worried about unrest surrounding the election next month. —Gina Acosta in Walmart CEO: Pantry Loading Is Back for Progressive Grocer
•
Decolonize Indian Food
The foods of the Bengal Famine, though, remain absent from accounts of the region's and India's cuisine. Indian food annals ignore the moments of hunger endured by millions, focusing instead on taste-centric gastronomy, laying out tables of opulence and abundance as normative, and foraging the past for pleasantries to set as placeholders for the history of Indian cuisine. Meanwhile, foods that fed and continue to sustain the powerless remain largely ignored. —Sharanya Deepak in A 'Forgotten Holocaust' Is Missing From Indian Food Stories for Atlas Obscura
•
One in 10 American adults do not have enough to eat right now.
A WPA-type program that targets hunger relief would be a "solution that tackles many issues in a holistic way, 360 degrees," Jose Andrés told me. In his plan, the federal government would pump money into restaurants and underused institutional kitchens, like schools and churches, which would then hire workers to cook for people in need. Food-service businesses, especially small ones, would be able to make rent, pay employees, and pay suppliers, including farmers, and in the process feed people in crisis. —Tom Philpott in We Can Tackle Hunger and Joblessness at the Same Time for Mother Jones
•
Rules of the Covid Road
I had a different mission: to eat exclusively outside, in places where the best food isn't sold in restaurants, but along the road. The rule was, when you see a roadside vendor, pull over. This was particularly true if said vendor had: 1) a large commotion surrounding the endeavor, 2) billowing smoke, or 3) a local specialty. —Stephen Satterfield in Exploring America's Hyper-Local Food Scenes on a Cross-Country Road Trip for Departures
•
How to Save Money on Takeout
Between growing up at home and leaving it, a lot of shit for me was in flux, all of it banal in one way or another: education prospects, job prospects, the queerness that had body-slammed its way into full visibility. But being in the kitchen, for me, wasn't ever a contentious thing — it just was. I felt comfortable there. I started cooking after the folks at the restaurant up the road interrogated me about what I made at home, swearing that, if I could figure out the basics of their cuisine's flavor profile, I wouldn't have to spend so much fucking money on takeout. —Bryan Washington in A Recipe Only Gets You So Far for The Cut
•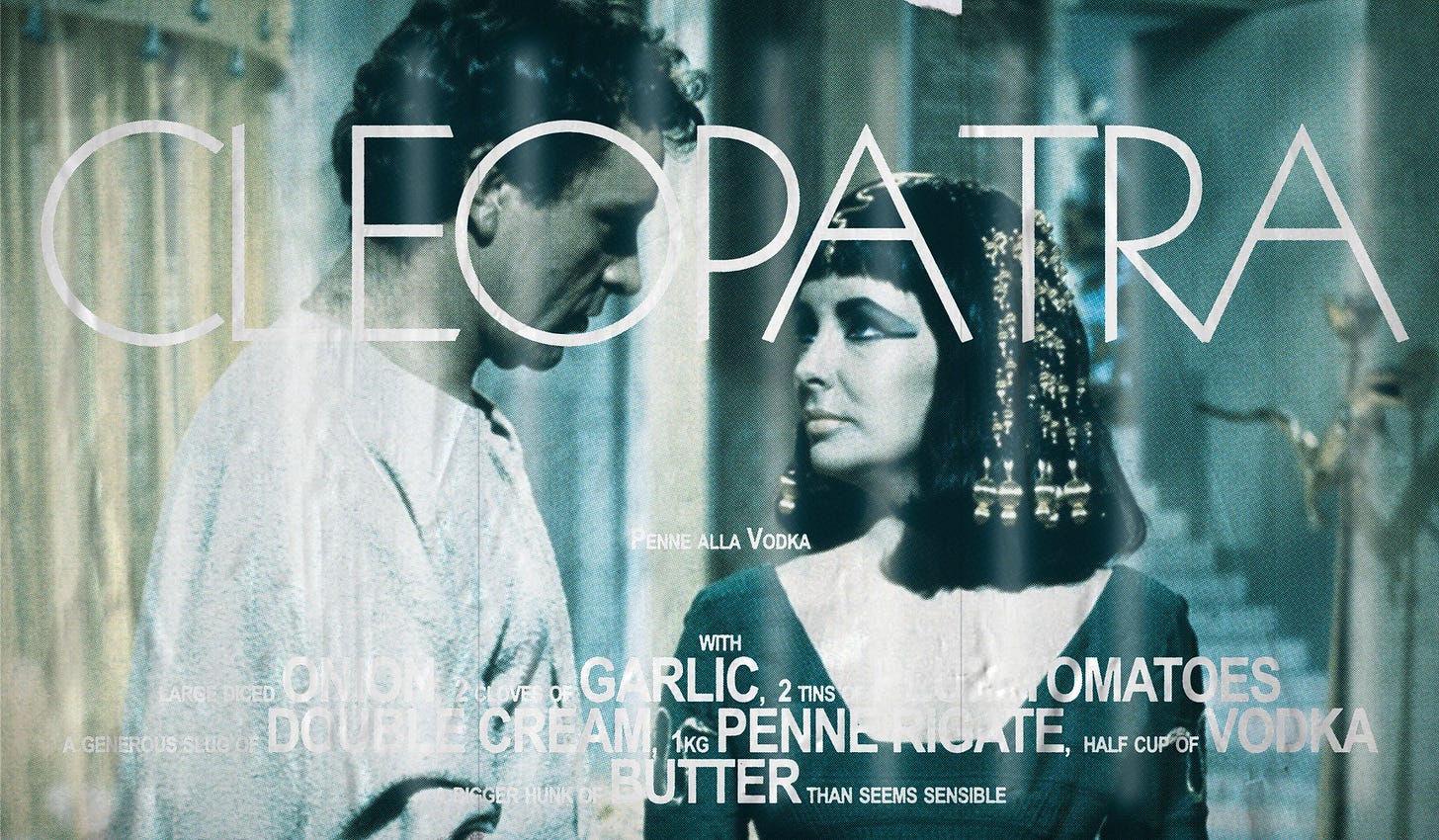 Dinner and a Movie
Penne Alla Vodka with Cleopatra (1963), Turkish Delight with Turkish Delight (1973), Passover Bagels with Crossing Delancey (1988), you get the drift… Six Writers on Cinema Good Enough to Eat with Simran Hans, Mayukh Sen, Michael Koresky, Zeba Blay, Kristen Yoonsoo Kim, Spiral Theory Test Kitchen for Ssense.com. Illustration: Alex Walker.
•
Halloween Special: Did you know human zombies actually descended from fish?
If anything like a zombie truly exists, it's in the fish world and Halloween is their season, according to the U.S. Fish and Wildlife Service. Zombie salmon, as they're called, are alive and still swimming, yet in the slow process of rotting to death, experts say. —Mark Price in Zombie salmon are the true 'living dead' and they emerge around Halloween, experts say for the SacBee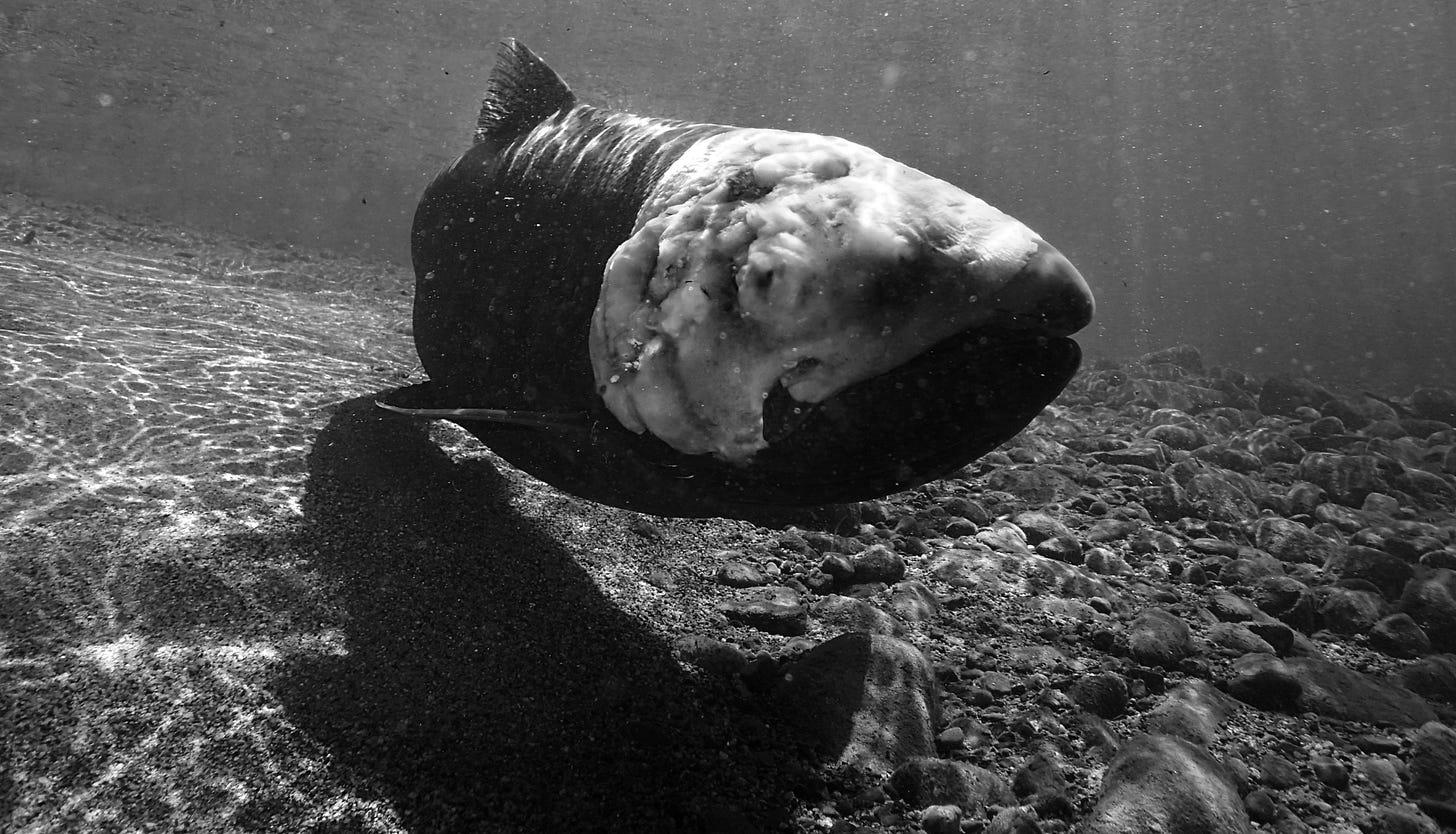 We found a fish that was most certainly dead — huge chunks missing, badly decayed, an eye gone — but when we picked it up, it was decidedly NOT dead, and took one last opportunity to spawn all over us! Zombie fish! —Katrina Liebich for the USFWS
Can't leave the zombie fish and human connection hanging out there. We did after all, evolve from fish, per Darwin at least:
Happy Halloween!
---
ONE MORE THING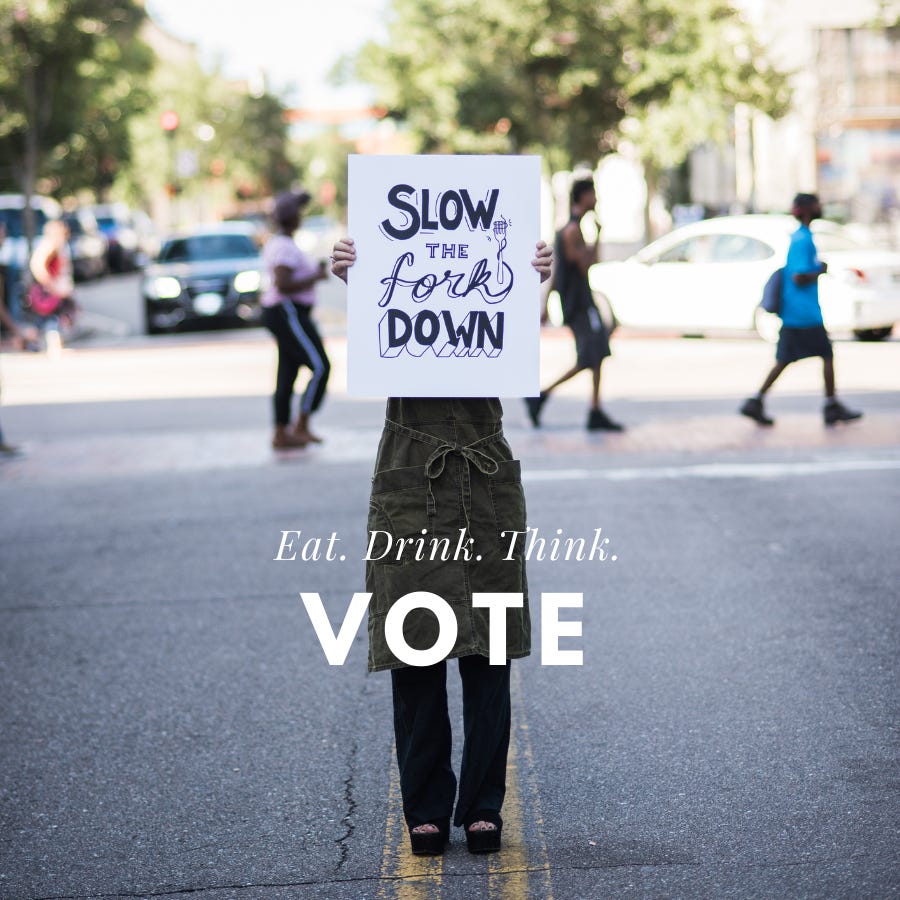 ---
That's all for this week.
Thanks for subscribing to Eat. Drink. Think. This post is public, so feel free to share it. Actually, we'd be eternally thankful if you shared it with everyone you know 😉
Do you follow us yet?
Instagram: 25K+ followers
Twitter: 53K+ followers
Facebook: 6500+ followers

Did you miss last week's newsletter? Check it here.
And if you made it here by chance and like the looks of things so far:
We're outta here. Be well and take care,
–Bruce
---
p.s.
#PROTIP: You might encounter a pay wall for some of the articles linked to in this newsletter. While we don't advocate not paying for content (subscriptions keep journalists/writers employed!), from time to time we do use OUTLINE to read an article for research purposes.
---
"Everything will be okay in the end. If it's not okay, it's not the end" –John Lennon