#8 | Devastating losses from the LNU Lightning Complex fire
Fourth Wave Coffee is not what you think. 
Hello!

While we're working on the next Edible SF issue, we've curated a worthy list, of what we've been eating, drinking and thinking about.

But first up, a very sad note from Vacaville. Here goes.
---
Devastating losses from the LNU Lightning Complex fire. Alexis Koefoed of Soul Food Farms posted this to her instagram Friday morning:

"This morning I woke up and thought maybe I had dreamed the whole thing, but then I smelled the smoke and saw the orange sun and the burned hills. Strangely I feel calm.

Our house is still standing, the orchard the gardens. Eric and I are unharmed. So much to thank God for.

Our hearts are breaking and emotions torn over all our friends who lost their homes and life's work. The farmers who have been devastated.

@heather_carollo my girlfriend and the person who photographs and documents Soul Food Farms story, her house burned down.

@laborgatawinery vineyard winery and tasting room all gone. Jerry and David built their dream by hand, literally. They have been farm anchors in our community for years.

@castlerocknigerians owned by Sarah Hawkins. Prized Nigerian goats. Her home and animals gone. This was her life's work.

@girl_on_the_hill lavender farm. My friends. The workshops, this years essential oil harvest and the lavender fields all gone.

Pleasants Valley Iris Farm all gone...I have broke down and cried from exhaustion and for my friends but their are no tears in me for Soul Food Farm. There is only thanks that what I love is still here."
---
EAT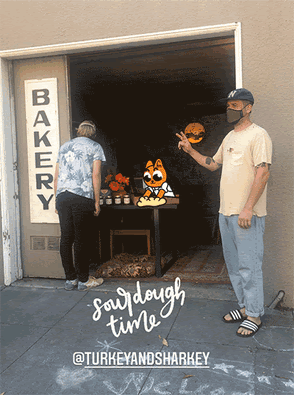 In last week's newsletter we mentioned Turkey and Sharkey's Sourdough bread made by Kendall Brinkley and Tyler Sharkey. Their pop up is at Page & Webster every Thursday at noon until they sell out. In case you need an additional prompt, this glorious loaf is what you get. They'll be rolling up the garage door for the pop up this Sunday, Aug. 22 too.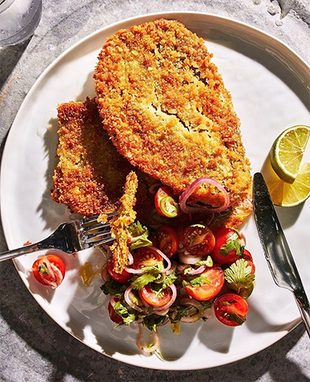 Nopales Milanesa-Style with Tomato Salsa from Christian Reynoso, formerly of Zuni Cafe: "I like to bread and fry the paddles, milanesa-style, and top them with some crumbled queso fresco or cherry tomato salsa." We're going to grab some and try it this weekend! Story| Recipe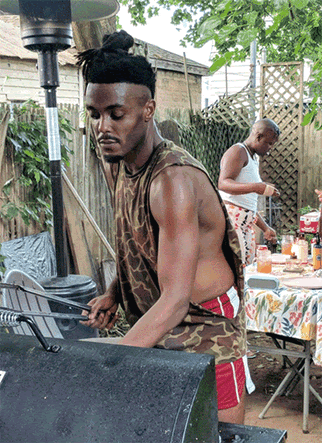 Today, your favorite gay grill dad made ribs and grilled mac and cheese. From Jamal Jordan, Digital Storytelling Editor @NYTimes: "Make a roux with your choice of cheese, cook bacon in a cast iron, then add the noodles + roux, top with bacon and bread crumbs, cook on grill for 20 min." Seen on Twitter.
"Why don't we make vinaigrette?!" My mother suggested. By vinaigrette she meant the Russian variety of a French salad, her favorite in the past: Dice boiled potatoes, carrots, beetroots, add boiled red beans, mix with pickled green tomatoes, or cucumbers, or cabbage, add chopped green onion sprigs, dill and cilantro. Sprinkle with finely minced parsley; add sunflower oil." —Nettles Bread and the Fall of the USSR by Misha Nishnianidze in Whetstone.
Black Restaurant Week in the Bay Area 8/21-8/31: "For ten days, foodies will be able to eat their hearts out at local participating African-American, African, and the Caribbean owned restaurants and lounges in the Bay Area. Diners can enjoy affordable price options for breakfast, lunch, dinner, or happy hour."
DRINK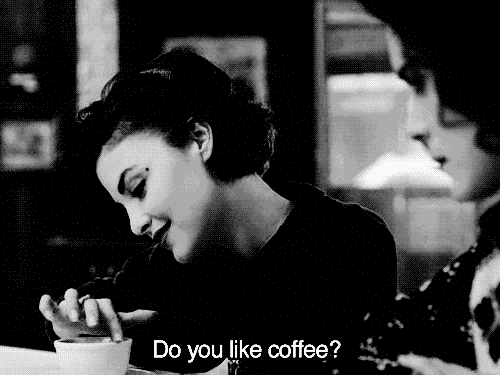 Fourth Wave Coffee is not what you think. "Well, listen, the fourth wave of coffee is inclusivity, pulling away "specialty" from being a defining term of its own and instead being a space of plurality of cultures and peoples all over the world." —Jordan Michelman, co-founder of Sprudge, in James Hansen's Indigestion newsletter.
What is CXFFEEBLACK? "Coffee, like many other things, has been colonized. When things are colonized they lose their identity and losing your identity is dehumanizing. In slavery, people lost their names. You received a new identity given by your colonizer. That's a big part of the X in our name, Cxffeeblack—Malcolm X and others in the Nation of Islam wanted to take back their names and use X to represent a link to their identity. That's what we want to do with coffee—let people interact with coffee from a Black identity." —Bartholomew Jones in The Sprudge Interview.
THINK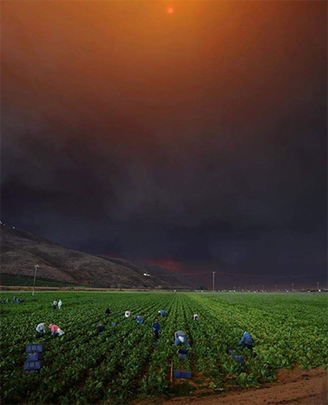 "The well's been poisoned: how mixed messaging on Covid battered California's Central Valley. The best way I can describe this is one side is fighting for dining out without masks while the other side is picking the crops and putting food on your table while begging for protective gear, just asking to survive," said Miguel Arias, Fresno city council president." —Vivian Ho in The Guardian.
Related: As smoke fills air, California farmworkers labor to put food on the table. —Danielle Echeverria in the SF Chronicle.
Can free fridges tackle food insecurity and 'poverty porn'? "To me, the least that people with privilege can be doing... A lot of the folks in tech who live in the Mission are providing resources to this fridge. And I have a lot of feelings about that where it's like, "Yes, thank you." But it also kind of hurts a little to say thank you because it's your direct privilege and your direct access to these resources for you to live in this community that you most likely statistically pushed someone out to live in. To do this job. Like now, you're gonna give me a few gallons of milk?" —Gabriela Alemán in the SF Chronicle.
The Chicks in the Mail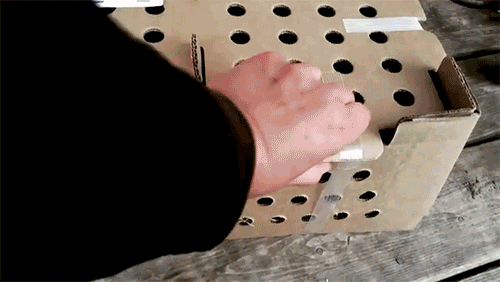 Thousands of chicks arrive dead to farmers amid USPS turmoil. If you've ever entertained the thought of backyard chickens you're probably well aware that you can get baby chicks sent to you in the mail. Small farmers routinely order chicks from hatcheries through the mail, but alas, things have changed. Via the Associated Press: "At least 4,800 chicks shipped to Maine farmers through the U.S. Postal Service have arrived dead in recent weeks after rapid cuts hit the federal mail carrier's operations, U.S. Rep. Chellie Pingree said."
"There's nothing sadder than seeing a box of tiny little fuzzy peeps and all of them are D.O.A. This is what happens when the mail suddenly becomes unreliable in rural towns and stretches of countryside where there are scant FedEx or UPS deliveries, and where people rely on the post office as an irreplaceable hub of commerce and connection." —Jack Healy in the NY Times.
Background: "The U.S. Postal Service will mail you baby chickens in a cardboard box. Yes, live chickens." —Tove Danovich in The Counter.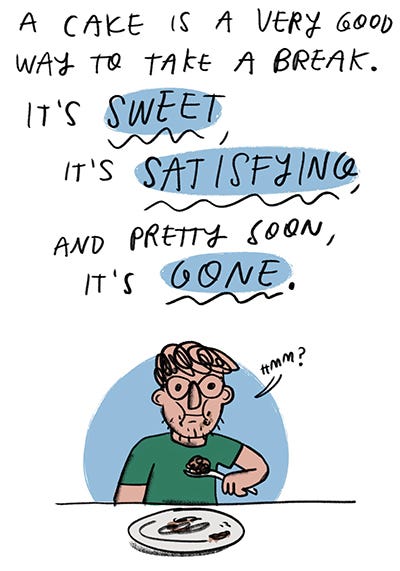 Subscribe: You Can Do This! An illustrated newsletter about food by Alex Testere. This is from his interview with Maira Kalman about her book Cake.
Listen: to the Sittin' and Sippin' podcast. "This week the guys sit down with the owner of San Francisco's Micuna Kitchen, Andres Alulema, and dive into a great conversation discussing plant based meals, approaching veganism, food justice and more."
"Selling junk to kids is, to my mind, a leading competitor for the most morally bankrupt job in the food system (and there's stiff competition). If people — individual people — stopped doing it, there would be no need for long, wonky, wishy-washy columns about government intervention, and we could all go back to arguing about carbohydrate metabolism." —Tamar Haspel in the Washington Post.
Knock on Wood: Predicting a Presidency: The Biden Agenda for Food and Sustainability. Biden intends to:
Invest in sustainable agriculture and conservation research, as well as technology like methane digesters

Broaden the federal Conservation Stewardship Program, which provides farmers and ranchers with tools to enhance sustainable practices such as carbon sequestration

Prioritize strategies to reduce greenhouse gas emissions from land use
---
ONE MORE THING
This week It was snowing chocolate in, where else, Switzerland.
---
That's all for this week. We need a drink and it won't be coffee.

Do you follow us?
Twitter 53K+ followers
Instagram 25K+ followers

Did you miss last week's newsletter?Check it here.

If you like this newsletter, please forward it to a friend.

And if you made it here by chance and like the looks of things so far, subscribe here.

Be well and take care,
–Bruce

p.s.
#PROTIP: You might encounter a pay wall for some of the articles linked to in this newsletter. While we don't advocate not paying for content (subscriptions keep journalists/writers employed!), from time to time we do use OUTLINE to read an article for research purposes.